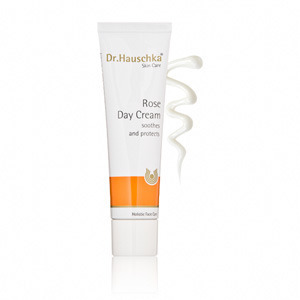 Sometimes there's a time when skin doesn't need to be constantly bombarded by cutting-edge ingredients that are plumping, filling, brightening or reversing things. Sometimes it just needs a lovely long drink of something soft and soothing. Like a holiday where you let it laze about a bit and feel indulged. That's when I pull out my tube of Dr Hauschka Rose Day Cream. A true cult classic, it's beautiful in its simplicity - no fancy scientific claims, wonder ingredients or trendy packaging. Just high quality, nourishing ingredients in a perfect formula.
I used this religiously as a young teenager - when living at very high altitude in thin, dry air - and I never got over the way it would give my skin this instant glow, with an almost warming effect - excellent for a climate where you're always cold. You'll take any warming you can get. The price has unfortunately gone up by almost double since I started using it, which is a scary indication of how old I'm getting. So it is quite pricey, but each tube contains the essence of 30 roses, and that sort of thing doesn't come cheap. Think about pressing your face into a bushel of silky rose petals. Gorgeous, right? That's kind of what this feels like, but without the worry of thorns or a stray beetle getting into the mix.
The original version is extremely rich and hydrating, but the essential oils are almost a bit too much for my skin these days - which is why I now prefer the Rose Day Cream Light. With all the same beautiful ingredients and pampering effects, with a lighter, smoother texture, it's my favorite straightforward, soothing and nourishing all-round moisturizer. The light version uses sesame and apricot kernel instead of the regular's peanut oil and shea butter - and is perfect for younger, combination or summertime skins. Should my skin get particularly thirsty, or I spend time in colder, dryer climes this winter, I'll be pulling the original back out. It's been a cult classic and celebrity favorite for years, and rightfully so - it will certainly always have a place of honor in my skincare arsenal.
Oh and it smells divine, in case you needed another reason to award it coveted cult status. Creamy, soft and natural. Would you expect anything less of thirty roses jammed into a tiny metal tube?
Rose image via Pinterest...